Her tortoiseshell frames snapped under the state trooper's careless boot.
When he forced the cold cuffs around her wrists and jerked her towards the cruiser, she stumbled. The tears were more for the seamed stockings that shredded against the asphalt than for her abraded flesh.
Her blurred reflection in the glass, bruised by flashing red and blue light, took her breath away. Stray locks of walnut hair falling from her careful French twist, cardigan askew, tidy mascara streaked. Dante, vanishing around the corner with one last shrugging glance, hood pulled tight, his sharp jaw and icy eyes clear in farsighted focus.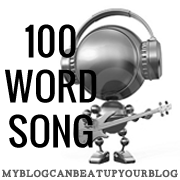 My friend Lance is offering up a challenge: I give you a song, usually under 4 minutes, then you give me exactly 100 words inspired by the tune. How the inspiration manifests, is up to you.
This week's song is #1 Crush by Garbage.