The basement smelled of musty carpet and damp plaster. My chest tight, body anxious, watching my best friend Hannah and the Landreau's youngest son, Matt, making out in the corner. Penny was playing the ancient WWF pinball machine with Steve. I knew they wanted me to hook up with their friend, but I was less certain about that than I'd been about the neon yellow Champion sweatshirt and pegged jeans I'd worn to the party.
"Hey," he said, clicking a cassette into the boombox. "Have you heard this?"
I've forgotten his name, but those guitar riffs? They've stayed with me forever.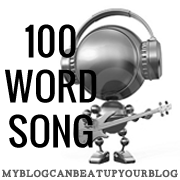 My friend Lance is offering up a challenge: I give you a song, usually under 4 minutes, then you give me exactly 100 words inspired by the tune. How the inspiration manifests, is up to you.
This week's song is She Talks to Angels by The Black Crowes. I was 13 when this song was first on the radio, and while this isn't precisely memoir (more a pastiche of memory and fiction), it captures the essence of me, awkward and unworldly, in middle school.