A flash fiction series in three parts today, each part is rooted in one of the writing challenges I'm participating in this week. Here is Part One:
Martin's kerosene lamp swung at his side, casting shadows over his worn homespun trousers.
As promised, a candle burned in Gillian's window, her profile fine in the amber glow. Martin could just make out her mother-of-pearl pen pressed into her lady's slipper curved lip.
He bent to choose a stone to tap the precious glass without breaking it, seeing instead a man's figure join her at her writing-table, slip a diamond starburst on her finger.
Unaware of the grace of his laborer's body, Martin swung his arm wide, launching the lamp, shattering glass with heat and fuel.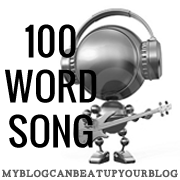 My friend Lance is offering up a challenge: I give you a song, usually under 4 minutes, then you give me exactly 100 words inspired by the tune. How the inspiration manifests, is up to you.
This week's song is Leave Your Light On, by Tim Eriksen of Cordelia's Dad.