Once, I was fearless.
I stood up and sang solos. I submitted writing to journals. I once told the boy I thought I loved what I felt, even though I knew he didn't feel the same. Because I was, while gut-twistingly nervous, fearless.
And then some things happened. Things which eroded my sense of self. I have allowed them to drive the bus too long.  (Where is Mo Willems to write this post? Don't Let Your Fears Drive the Bus!
)
I've never claimed a guide word for a year before, but I have friends who do it routinely.
There is, as they say, a first time for everything.
In 2014, I am going to reclaim FEARLESS.
I am going to go for it. My fakeittilyoumakeit Aries self is going to be the boss. I realized this about 5 weeks ago when the auditions for Listen to Your Mother/Boston were announced. I had an anecdote and an idea I wanted to explore, but I'd never written it down before. In the span of about two days, I drafted, edited, fretted over, and ultimately submitted the piece and signed up for a spot.
That audition was great. I mean, I enjoyed it. I was happily nervous, excited, optimistic, and okay with not making the cut if that was how the wind blew. A healthy kind of mindset I haven't really owned in a long time. (Perhaps it's my thick author skin growing in? You can't please everyone all the time.) The producers were kind and funny, and I left thinking, "Good on ya, Cam."
Well, friends, readers, and any Romans or countrymen who might be poking about here today, I was cast!
I am one of 15 men and women who will share our stories about motherhood in the inaugural Boston performance of Ann Imig's fantastic franchise. Take a moment, if you will, to click the pretty image. It will take you to our casting announcement, where you can meet my cast mates.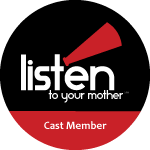 If you're going to be in or around Boston on April 26th, please consider bringing your mother, daughter, spouse, sibling, cool uncle, best friend, hot date, or that total fox from band practice to see the performance. I'll be comparing a small child to a large fowl.
Sort of.
Earlybird tickets are just $16.52
(pesky fees) until March 15, and 10% of sales proceeds will support  the
Cambridge Women's Center
.
In Fourteen, I will be fearless. I will embrace the challenges, believe I can do what I want to get done, and push myself to be my best self. To see again in myself that fearless girl I once was.
Now, if you'll excuse me, I'm off to be FEARLESS about working out, because these performances are recorded for posterity by way of YouTube, and there's only so much Spanx can do…