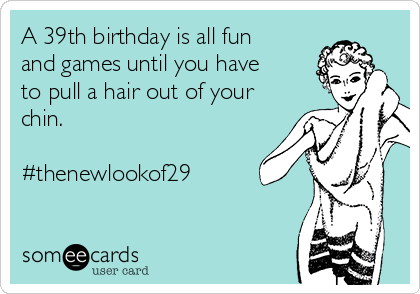 According to my mother-in-law, I cease to age today. Pretty good deal, I guess. Honestly, I'm not too fussed about staring down 40, (except for maybe those pesky wrinkles around my eyes and smile — turns out I'm a little vain about those). Truthfully, a great many of my friends, the women in my family, and my tribe of authors have rocked or are rocking their 40s pretty hard. I am psched to join their ranks.
Come at me, 40.
Just not until next year 😉
To celebrate this auspicious birthday, Damselfly Inn is free for your Kindles and Kindle apps until Sunday (Which is my dad's birthday. Family partying!), and there's a signed paperback to give away as well (just keep reading!).  Tell your friends! Your mothers-in-law! Your dads (if they're into romances)!
If you want to give me a birthday present, please leave a quick review on Amazon if you like what you read. It's super easy. Here are some things you might say:
Great characters!
I want to move to Thornton!
Despite the lack of aliens in time-and-space-traveling phone boxes, this was a pretty swell book!
Really enjoyed this read!
Where can I get the recipe for Kate's chocolate-cherry cookies?
Easy! What better gift? You guys are fantastic! Now, back to finishing up Sweet Pease, so we can all go back to Thornton.
Damselfly Inn (Bannerwing Books 2015)

The picturesque college town of Thornton, Vermont is the perfect place to open an inn. Or so Nan Grady thinks until a late summer storm drops a tree branch through her roof and local contractor Joss Fuller into her path.
Romance has been the last thing on her career-oriented mind, but Nan can't deny the attraction between them. Nor can she deny the history between Joss and her most important guest: a sophisticated Manhattan academic.
And then there is the mysterious vandal targeting her home and livelihood.
As summer fades to autumn and Joss becomes a fixture around the Damselfly Inn, Nan navigates the joys and complications of life in her new home town. But when the vandalism becomes increasingly upsetting, threatening Nan and her guests, as well as her budding relationship with Joss, Nan questions her place in the town, at the inn, and in Joss's heart.
Julie C. Gardner, author of Letters for Scarlet (Velvet Morning Press) calls the romance between Nan and Joss "slow burning and delicious." Andra Watkins, NYT Bestselling author of Not Without My Father and To Live Forever: An Afterlife Journey Of Meriwether Lewis (Word Hermit Press) calls Damselfly Inn "a perfect beach read, a best pick for a vacation or a delicious page-turner to wile away any afternoon."
FREE ON Amazon!
B&N | Signed Paperbacks
And if you made it all the way to the end? I'm giving away a signed copy of Damselfly Inn!. I'll inscribe, sign, and mail it off to you or your recipient of choice anywhere in the USA. Just leave a comment here by April 27th, and I'll pick a random winner using highly advanced techniques which will probably include letting the Not-So-Small Boy draw a name from a hat. Or a Lego bin. We've got loads of those.