He backed her up against the counter, one hand in her hair, one up her skirt seeking her slick, wanting heat. She sucked his lower lip, hooked her heels around his ass.
A spoon clattered into the sink, spattering tea on her hand.
She smeared his tears with her thumb when they came.
Later, smoking his last clove on her front stoop, she joined him, cherry blossom kimono belted loose over the olive skin he loved. She leaned down to twist a lock of hair from his forehead. "You okay?"
He reached up and squeezed her hand.
"I'm gonna be."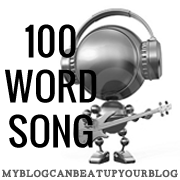 My friend Lance is offering up a challenge: I give you a song, usually under 4 minutes, then you give me exactly 100 words inspired by the tune. How the inspiration manifests, is up to you.
The song is the Stones' Waiting On A Friend.